The Headmaster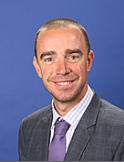 Mr. Douglas commenced in his role as Principal of City of Armagh High School in November 2019. Prior to his appointment Mr. Douglas was a Deputy Headteacher in a large East London High School.
Mr. Douglas previously completed his first degree in Queens University Belfast and then relocated to Liverpool to undertake teacher training. Following two years teaching in Liverpool Mr. Douglas relocated to London as a classroom teacher and undertook further study acquiring a Master's degree in Education.
Mr Douglas has extensive experience in an array of management roles including but not limited to Head of House, Head of Year and Assistant Headteacher in advance of assuming the role of Deputy Headteacher. This wide range of managerial experiences complemented with academic research enables Mr Douglas to support the development of students at City of Armagh High school to help prepare them to become active local and global citizens.
City of Armagh High School, Alexander Drive, Armagh, BT61 7JH | Phone: 028 3752 2278