The Headmaster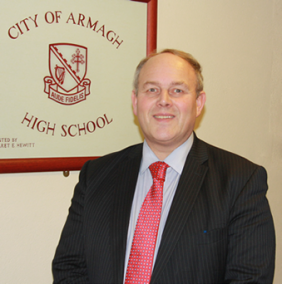 Mr Livingstone has a life-long connection to City of Armagh High School. He attended the school as a pupil for 5 years during which time he participated in musical productions. In his final year he was appointed Head Boy.
Mr Livingstone then proceeded to Armagh Technical College where he completed A Level studies after which he studied at Stranmillis Teacher Training College.
In 1982 he returned to the school to teach in the Technology Department. Mr Livingstone has remained in the school since then and during that time has been involved in many initiatives including introducing 6th Form, developing ~Careers provision and working closely with other schools in the Armagh Area Learning Community to provide shared classes.
For 10 years Mr Livingstone was a member of the Senior Leadership Team and Head of the Technology Department.
On 01 September 2015 he took up the post of Principal and now uses his extensive experience and understanding of the needs of the pupils to lead, guide and develop the school.
City of Armagh High School, Alexander Drive, Armagh, BT61 7JH | Phone: 028 3752 2278