Science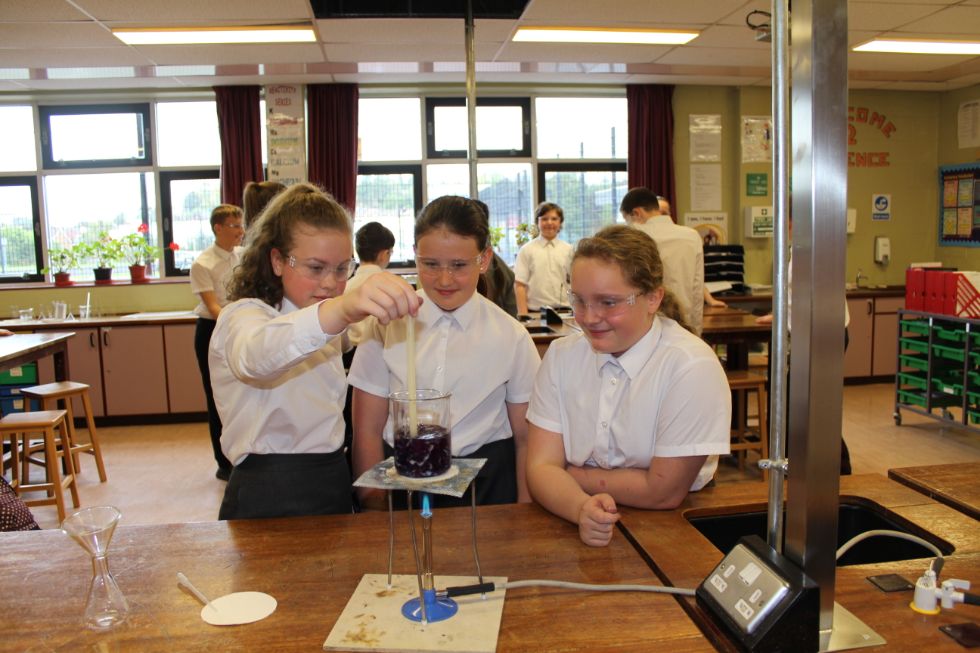 Staff in the Science department
Mrs Smiton (HoD)
Mrs Uddin
Miss McKee
Mr Calvin (Technician)
What will you learn in Years 8-10?
Year 8:-
Safety rules
Hazard Symbols
Cells
Methods of Separation
Forces 1
Year 9:-
Reprodction
Acids & Alkalis
Forces 2
Plants and water
Matter
Space
Food chains & webs
Year 10:-
Cells
Food and Diet
Disease and Body defences
Elements, compounds and mixtures
Periodic Table, atomic structure and bonding
Materials
Energy
Heat Transfer
Road transport and Safety
What will you learn in Years 11 & 12?
CCEA Double Award
Year 11 B1,C1 and P1
B1 Cells
Photosynthesis and Plants
Nutrition and Food Tests
Enzymes and Digestion
The Respiratory System, Breathing and Respiration
Nervous System and Hormones
Ecological Relationships and Energy Flow
C1 Atomic Structure
Bonding
Structures
Nanoparticles
Symbols, Formulae and Equations
The Periodic Table
Quantitative Chemistry
Acids, Bases and Salts
Chemical Analysis
P1 Motion
Force
Density and Kinetic Theory
Energy
Atomic and Nuclear Physics
Year 12
B2 Microorganisms and Plant Transport
The Circulatory System
Reproduction, Fertility and Contraception
Genome, Chromosomes, Genes, DNA and Genetics
Variation and Natural Selection
Health, Disease, Defence Mechanisms and Treatments
C2 Metals and Reactivity Series
Redox, Rusting and Iron
Rates of Reaction
Equilibrium
Organic Chemistry
Quantitative Chemistry
Electrochemistry
Energy Changes in Chemistry
Gas Chemistry
P2 Waves
Light
Electricity
Magnetism and Electromagnetism
Space Physics
CCEA Single Award
Year 11
Unit 1 Biology
Cells
Food and Nutrition
Chromosomes and Genes
Co-ordination and Control
Reproductive System
Variation and Adaptation
Disease and Body Defences
Ecological relationships
Unit 2 Chemistry
Acids, bases and salts
Elements, compounds and mixtures
Atomic structure and Periodic Table
Bonding Materials
Year 12
Unit 2 Chemistry
Symbols, Formulae and Equations
Qualitative Analysis
Metals and the Reactivity Series
Rates of Reaction
Organic Chemistry and Hydrocarbons
Unit 3 Physics
Electrical Circuits
Household Electricity
Energy
Electricity Generation
Heat Transfer
Waves
Road Transport and Safety
Radioactivity
Earth in Space
OCN Applied Science
Year 11 and 12
Physical Processes
Heat transfer
Electricity
Forces and Motion
Waves and Radiation
Life Processes and Living Things
Cellular structure and functions
Transport of nutrients and gases in plants
Genetics and inheritance
How organisms interact with the environment and each other
Enzymes and their role in living organisms and industrial processes
Materials and Their Chemical Properties
Atomic structure
The Periodic Table
Nature of chemistry and the main types of chemical reaction
Rate of reaction
What equipment will you need?
Pencil, black pen, green / purple/ red pen, highlighter, rubber, ruler, protractor and calculator
What do we expect from homework?
Complete homework and bring to school on the correct day.
Neat and tidy presentation
Continually learn key words and phrases.
Any other information
If you are absent you need to catch up with notes and homework.
If there is anything you do not understand ask your teacher to help you at an agreed time.